After the stress of this month, it was so wonderful to escape to the mountains for a weekend of fun with a few of my girlfriends! We ate, shopped, crafted, and made plans for this to be an annual trip! Next time we'll be loading up even more people for the trip! I'm so excited!!!

I'll eventually get more pictures from the weekend uploaded, but for now, I had to share one of the group crafts we made!
Each of us were responsible for bring fabric that we either loved or thought it represented our personalities.
These were my fabrics:
The goal was to make a patchwork friendship apron that represented the 4 of us! I must admit that I really couldn't visualize the final product until it was almost finished. I was scared that it would be hideous! I'm
so happy
to say that I was
WRONG
!!!
You can sort of see the four different piles of fabric that represented each of us.
I was terrified I was going to make a mess with mine! I'm a sewing novice! I had no clue how to make it all come together! I nominated myself as the designated ironer until I felt a little more confident in my skills. Thank goodness I was with
3 sewing divas
! They were such wonderful teachers!
The apron turned out better than I ever imagined!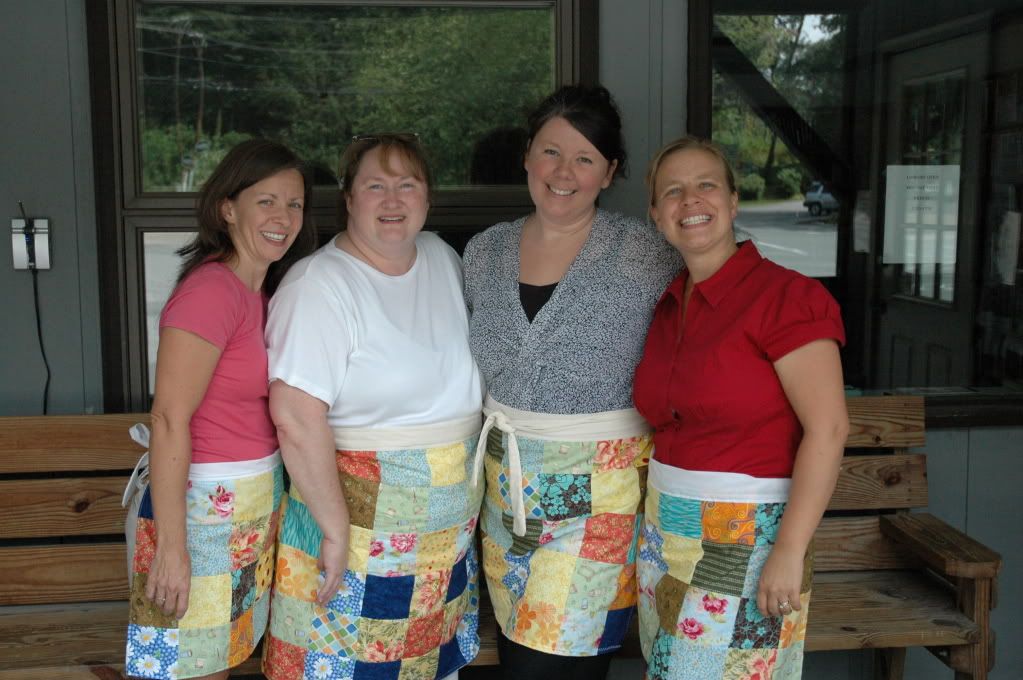 We tracked down one of the local policemen to serve as our photographer!
I think we were the highlight of his day!